Sub-Admin Access can be created for you to grant access for others to be able to control your lock and grant access to others via Bluetooth when within range of your Lockly® lock.  Below are the steps to give access to users as Sub-Admins.
Go to Access in your mobile app.  Select Add A New User from that page.
Selected Guests on the next page.
On the Add Guest page you will click on the Next button with Validity Period selected.
On the next page, you will select the Validity Period that you would like for this Guest user to be active.  If you want them to have this access for a long time, select a date years into the future.  Once you have selected the Validity Period you will click on User Permissions.
On the User Permissions page, you can select Sub Admin Access.  You can also give that Sub Admin access to be able to create Offline Access Codes.  Keep in mind that if you give the Sub Admin that control, you as the Admin will no longer be able to issue OAC's as only one user can create them at a time.
Sub Admins will be able to issue Guest User Access Codes as well as One Time User Access Codes.
Once you have the Validity Period and have granted Sub Admin access you will click on the Confirm button.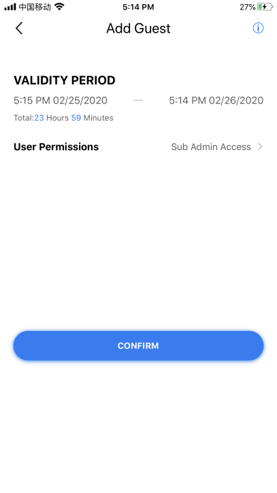 On the next page, you will be able to Copy the eKey or Share the eKey directly through your device to the Sub Admin.
Your Sub Admin will now be able to grant limited access codes to users when within Bluetooth range.  Sub Admins will not be able to access the lock remotely through the Secure Link WiFi Hub.