One-Time Access Codes can be created for individuals that you want to have access to your property on a 1-time basis.  Here are some helpful screenshots to help you set up a One-Time Access Code for the firs time.
Choose Access at the bottom of the mobile app.  And then Access Codes at the very top.
You will then select ADD A NEW USER.
On the next step, select One-Time Access.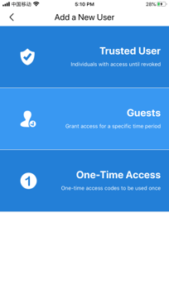 The next step will be to choose a Validity Period that you want the code to be active and then Confirm.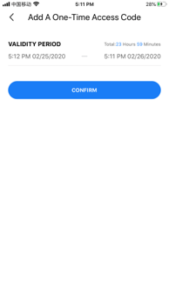 On the final step, you can either Copy the One-Time Access Code and send it through whatever format you would like.  Or you can select Share which will pull up your email or text messages among other ways that you will be able to share with your guest so that they can use that code to gain entry into your property.